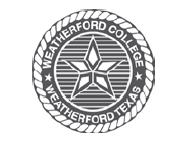 Weatherford College of the Parker County Junior College District is accredited by the the Southern Association of Colleges and Schools Commission on Colleges to award the associate degree.
Contact the Commission on Colleges at 1866 Southern Lane, Decatur, Georgia 30033-40978 or call 404-679-4500 for questions about the accreditation of Weatherford College.
Interested constituents may contact the Commission on Colleges (1) to learn about the accreditation status of the institution, (2) to file a third-party comment at the time of the institution's decennial review, or (3) to file a complaint against the institution for alleged non-compliance with a standard or requirement.
The Commission is to be contacted only if there is evidence that appears to support an institution's significant non- compliance with a requirement or standard.
Normal inquiries about the institution, such as admission requirements, financial aid, educational programs, etc., should be addressed directly to Weatherford College and not to the Commission's office.
Also approved by the Texas Higher Education Coordinating Board
Weatherford College is a member in good standing of the
American Association of Community Colleges
National Junior College Athletic Association
North Central Texas Council of Governments
Northern Texas Junior College Athletic Conference
North Texas Community College Consortium
Texas Association of Community Colleges
Texas Association of Community College Trustees and Administrators Texas Association of School Boards
Texas Community College Association
Texas Community College Teachers Association
Texas Council of Academic Libraries Association